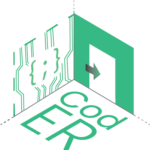 Project News:
As part of our #CodER project, we pilot tested our very first project result, the CodER Module on Coding with Python and Microcontrollers for young people, youth workers and trainers in France, Greece, Cyprus and Croatia.
We introduced programming and microcontrollers to our participants, demonstrating their wide range of applications with guidance and steps for participants to apply what they have learned based on examples. Participants had the opportunity to practice their coding skills and use Arduino to try some fun projects such as a remote-controlled door lock, a pseudo-theremin with a light sensor, and a smart cooling fan!
Stay tuned for our upcoming project results!
Website: https://coderproject.eu/
Instagram: https://www.instagram.comcoder_eu/
YouTube: https://www.youtube.com/channel/UCQ_DnfQFVa22wwFv1gkTPiw
#CodER #programming #microcontrollers #ErasmusPlus #21stcenturyskills