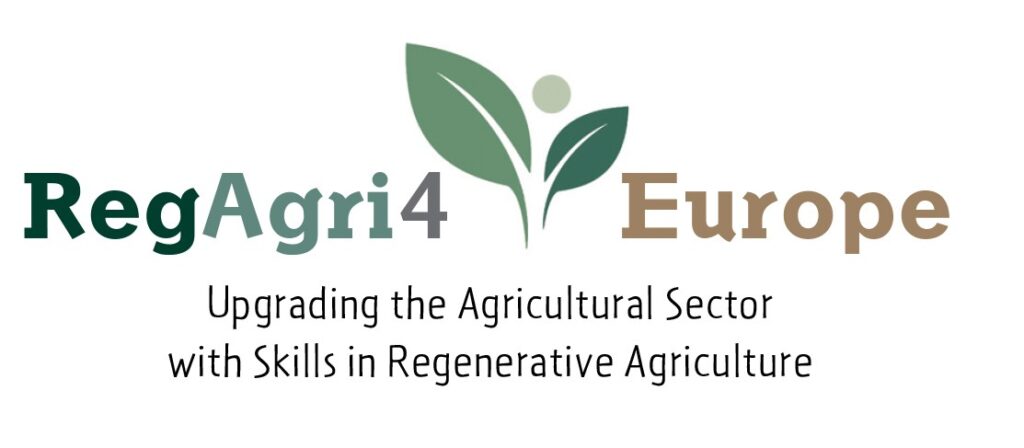 What is Regenerative Agriculture?
Regenerative Agriculture aims to improve the regeneration of the topsoil, biodiversity and the water cycle. This approach integrates ideas from ecological agriculture, permaculture, agroecology, agro-forestry and renaturation ecology. In addition to other goals, it represents a form of humus management as it aims to accumulate CO2 as carbon in the soil and in near-ground biomass. In doing so, Regenerative Agriculture reverses the current global trend of CO2 accumulation in the atmosphere – one major driver of climate change.
The Course teaches practices that contribute to enhancing soil fertility and biodiversity, improving water cycles, increasing resilience to climate
change and enhancing carbon sequestration, thereby cleansing the atmosphere. You will become better skilled to choose innovative paths and sustainable
cultivation methods in your (future) professional life, such as Cover Cropping, Mulching and Key Line Design.
What do you find on our Virtual Learning Platform?        
The course is accessible through the RegAgri4Europe Virtual Learning Environment providing:
video lessons, reading material, learning activities, a virtual library, assessment exams and a certificate to download. All material is available in
English, German, Greek and French. Our course will be accredited, which means that you can receive 3 Credit Points in cooperation with your University.
Register for the course HERE
Lecture

Lessons

1

Background, Context, Insights into Regenerative Agriculture

1

Movements, definitions, differences, labels

2

Root causes & motivations for RegAg – Soil Erosion

3

Renewable Energy – Agricultural applications

4

Barriers and Challenges

2

Reasons & principles behind RegAg

1

Living soils & plant symbiosis

2

Key Principles of Regenerative Agriculture

3

Methods of Regenerative Agriculture

4

Key Principles of Permaculture

3

RegAg in practice I: 
Vegetable production

1

Mulch Vegetable System

2

Low-till Protected Crop Production

4

RegAg in practice II:
Regenerative Agricultural Production

1

Cover Cropping

2

Minimum Tillage & Surface Composting

3

Living Mulch Systems

4

Intercropping

5

RegAg in practice III:
Other practices for large scale implementation

1

Agroforestry

2

Key Line Design

3

Mob Grazing & Holistic Grazing Management

6

Benefits of RegAg for the Environment, Society, Human Health

1

Carbon sequestration potential

2

Planting water

3

Relation between Human and Soil Microbiom

4

Economic aspects – benefits and challenges of transformation 
Have questions? More info here
Project Coordinator Laura Dorn, dorn@cefe.net
Website: www.regagri4europe.eu