Numeric[All]'s Exhibits coming to life!
The progress in creating the prototypes of the gamified mobile museum and 3D printing…
On the third transnational meeting in Athens, the partners came together to try out the 16 prototypes created under the second project result, the gamified mobile museum. We are excited to share with you some pictures from our experience testing the prototypes, as they say, one picture is equal to a thousand words.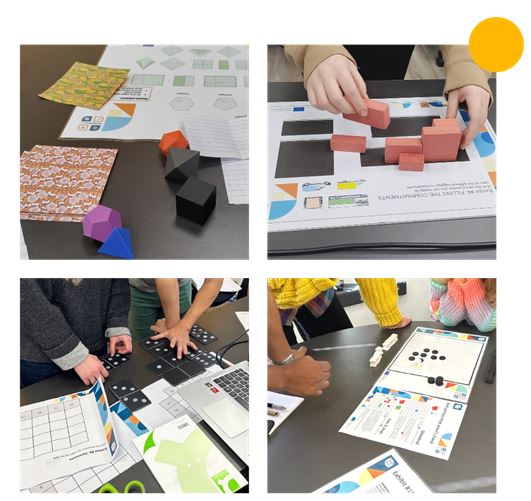 After testing out the prototypes and deciding on the final modifications of the exhibits, we extensively discussed how to bring the interactive exhibits to life through 3D printing and simple materials. Under the context of the third project result, we are developing a 3D Module along with its accompanying Laboratory Manual to provide adult trainers and educators with knowledge on how to employ 3D modelling and printing in their educational settings. The DIY Creation Kit is also a part of this project result, and it will explain in a step-by-step process how the interactive exhibits can be recreated in 3D software.
What you can expect in the next few months
We are going to be working on finalising the blueprints of the exhibits and the 3D Module, as well as, developing the DIY Creation Kit that will be tested in Barcelona in May 2023. The next few months are going to require extensive testing from each partner and preparation for our upcoming training activities.
Numeric[All]'s consortium is dedicated to working together to produce inclusive and high-quality materials for adult learners as a way to boost both numeracy and literacy skills through non-formal mathematics museum methodologies. There is still a long way to go until the project wraps up in 2024, so stay tuned!