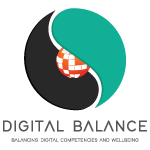 Balancing digital competencies and wellbeing
Visit the Project's Website
Follow the project on Social Media
The COVID-19 pandemic has accelerated the digital transition within VET, leading to a steep rise in online/remote teaching. Despite the many positive aspects of this catalytic change towards digitalization, the speed of the transformation has left little time to address the risks involved. Teachers in particular face a higher risk of digital overload or burnout than ever before.
Digital Balance targets two groups
a) VET teachers.
b) VET management and department heads (often teachers themselves).
Objectives
Results
Activities
Objectives
Objectives of the project

Design, develop and implement a new approach to train VET teachers, leaders and managers in digital wellbeing. The end result will be to improve educators' own digital competences, while also boosting the capacity of VET institutions to manage the digital transition in a way that marries high quality teaching with the wellbeing of those involved.
Specific Objectives
-The production of 3 new resources that enable the integration of policy and practice to support digital wellbeing for teachers and encourage proactive behaviour at personal level.
-Rigorously use, test and refine the resources in collaboration with 72 managers/department heads and 96 teachers
-Ensure strong uptake of the resources with a persuasive dissemination campaign so that 840 VET managers, department heads and teachers use the resources in the project lifespan, with hundreds more after completion.
Results
Activities