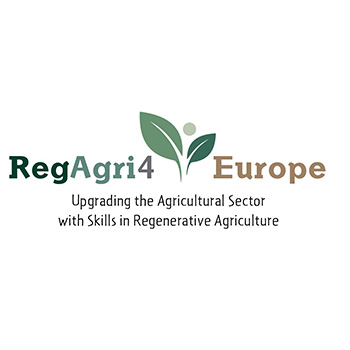 Upgrading the Agricultural Sector with Skills in Regenerative Agriculture
Visit the Project's Website
Follow the project on Social Media
The industrial farming systems succeeds in producing large volumes of food for the global market. In the EU, more than 90% of the fields are cultivated conventionally. However, this
type of cultivation creates serious problems for human health, the climate, biodiversity, soils' fertility, freshwater bodies and the ecosystem as a whole. (UNEP Foresight Brief, 013,
May 2019). The EU promotes European agriculture with almost 60 billion€ per year. Hardly any of this money is used for production of healthy food or the protection of the
environment, climate and biodiversity (Agriculture Atlas 2019, publication co-funded by EC).
Regenerative Agriculture with its subtopic Permaculture responds to all above-mentioned problems as it is a conservation and rehabilitation approach to farming systems focusing on topsoil regeneration, increasing biodiversity, improving the water cycle, supporting bio-sequestration, increasing resilience to climate change and enhancing soil fertility. In a recent European Commission's publication, permaculture is included in the 100 Radical Innovation Breakthroughs for the future and is presented as a chance to replenish depleted soils through rotating cultures and complementary crops (EC 2019, ISBN 978-92-76-13045-1). Although solutions exist, regenerative/permaculture farming practices are not taught to apprentices in agricultural schools (see e.g. for Germany: Verordnung über die
Berufsausbildung zum Landwirt/zur Landwirtin).
Objectives
Results
Activities
Objectives
Objectives of the project
Close the skills gap in agriculture education by providing a web-based training on Regenerative Agriculture (RegAgri4Europe VOOC). The course will enable learners to apply alternative cultivation methods, therewith equipping them with the competences to respond to the challenges the agricultural sector is experiencing.
Inform VET authorities and policy makers about regenerative agriculture, prompting them to include teaching contents on the subject into national educational framework curricula.
Integrate RegAgri4Europe course into curricula of agricultural VET providers, training centers and HEIs.
Conduct an awareness raising campaign on national and EU level giving policy makers, VET providers, farmers and the general public a coherent picture of the state of the art of Regenerative Agriculture and help foster the perception about alternative farming, its benefits and the possibilities to upscale measures.
Results
Activities