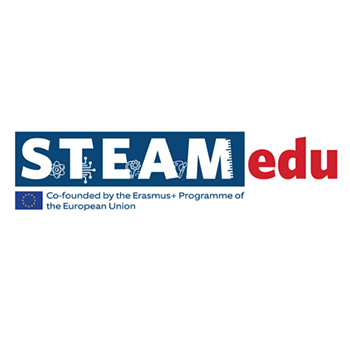 MSc course in STEAM education - STEAMedu
Visit the Project's Website
Follow the project on Social Media
Occupations of the future have been changing rapidly, and the knowledge and skills acquired today may not be enough while preparing our students for life. Studies funded by the European Commission have highlighted important issues regarding STEM in education systems, including the low attractiveness of studies and careers in STEM areas. It is also reported that there are unmet labor market needs in these areas that are expected to grow in the future (European Schoolnet, 2018). STEM careers are considered as 'the job' of the future; the European Parliament forecasts around 7 million new STEM jobs by 2025 (Education 2030 Unesco, 2017). This skills gap between future jobs and STEM candidates is alarming in many Balkan countries. In the Western Balkans, by 2015, half of students on average, enroll in Humanities and Social Science Subjects, while 24% enroll in STEM subjects. Based on survey results with Balkans graduates (Osbild & Bartlett, 2019), graduates in the Western Balkans are only moderately satisfied with the quality of higher education they receive. Many graduates consider that their job prospects would have been improved by better teaching methods, by more relevant curriculum and by having better qualified professors.  Among graduates who studied ICT, as many as 30% are underqualified in relation to the skills needed by their jobs. This is a worrying finding, suggesting that HE systems fail to impart the skills needed in a key field contributing to high value-added employment. Due to the importance of individual preparation to work in the technologically advanced world, there has been a growing interest in STE(A)M education over the past years. A move from STEM education where subjects are taught in silos with focus on scientific concepts to a STE(A)M approach in teaching and learning where concepts are investigated through interaction between STEM and non-STEM subjects and links to economic, environmental and social challenges is important to increase young people's interest and motivation to study STEM subjects and to choose STEM careers and produce a workforce that is capable of tackling complex challenges through creative and interdisciplinary approaches.
Objectives
Results
Activities
Objectives
Objectives of the project
Develop new specialized curriculum and an innovative MSc programme on STE(A)M education thus helping build the capacity of the partner countries' HEIs, improve the level of competences and skills offered, and address the existing absence of similar programmes.

Establish viable synergies and links with the STEM and non-STEM HEIs departments in order to address the current gap in the region for a specialised MSc programme in STE(A)M education, thus providing the educational community with a steady stream of highly qualified educators of all the levels of education.

Reinforce the infrastructure of the Partner Counties' HEIs by establishing STE(A)M
Laboratories that will act as foci for research and innovation in the area thus
ensuring that STE(A)M education will remain high in the regional priorities
agenda for a long time after the project has been completed.
Reinforce the capacity of the Partner Countries' HEIs by training their academic staff in the new courses and appropriate delivery methods. This will be achieved by
developing a training virtual learning environment to support the Partner
Countries HEIs' academic staff during and after the project.


Stimulate

greater human connectivity

through the exchange of students and staff, which is enabled through global and regional networks, and consortium of higher education institutions.

Promote cooperation, exchange of know-how and good practices

in the subject area between EU and PC HEIs.

Creation of

Alumni virtual centres

and organizing info days for STE(A)M education.
Results
Activities