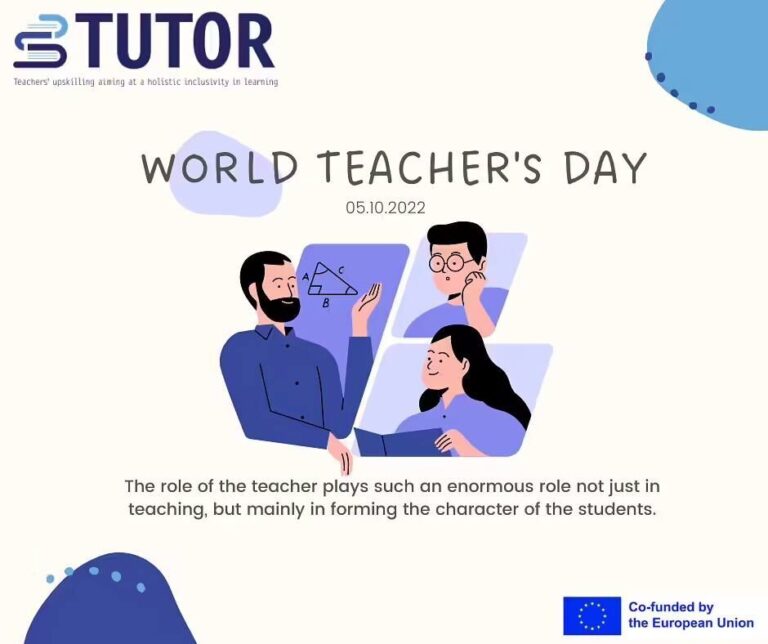 𝖳𝗈𝖽𝖺𝗒 𝗂𝗌 𝗍𝗁𝖾 𝖶𝗈𝗋𝗅𝖽 𝖳𝖾𝖺𝖼𝗁𝖾𝗋'𝗌 𝖣𝖺𝗒!


World Teachers' Day commemorates the signing of the 1966 UNESCO/ILO Recommendation concerning the Status of Teachers, which outlines standards concerning the education policy, teachers 'recruitment, initial training and continuing education of teachers, their employment, and working conditions. World Teachers' Day aims to 𝓪𝓹𝓹𝓻𝓮𝓬𝓲𝓪𝓽𝓮 𝓽𝓱𝓮 𝓮𝓭𝓾𝓬𝓪𝓽𝓸𝓻𝓼 𝓸𝓯 𝓽𝓱𝓮 𝔀𝓸𝓻𝓵𝓭 and provide an opportunity to consider issues related to teachers and teaching.


𝐓𝐮𝐭𝐨𝐫 𝐏𝐫𝐨𝐣𝐞𝐜𝐭 aims to develop a 𝐄𝐮𝐫𝐨𝐩𝐞𝐚𝐧 𝐚𝐧𝐝 𝐢𝐧𝐭𝐞𝐫𝐧𝐚𝐭𝐢𝐨𝐧𝐚𝐥 𝐨𝐮𝐭𝐥𝐨𝐨𝐤 𝐢𝐧 𝐭𝐞𝐚𝐜𝐡𝐞𝐫 𝐞𝐝𝐮𝐜𝐚𝐭𝐢𝐨𝐧 𝐨𝐧 𝐢𝐧𝐜𝐥𝐮𝐬𝐢𝐯𝐢𝐭𝐲. TUTOR provides a response to the need of an efficient adaptation of the traditional classrooms to a new, more inclusive environment, open to migrants, LGBTQI+ students, and socioeconomically disadvantaged students with a particular focus on safeguarding the elements of 𝘛𝘖𝘓𝘌𝘙𝘈𝘕𝘊𝘌, 𝘈𝘊𝘊𝘌𝘗𝘛𝘈𝘕𝘊𝘌 𝘈𝘕𝘋 𝘐𝘕𝘊𝘓𝘜𝘚𝘐𝘖𝘕.
With iekAKMIedu | Symplexis | European Association of Institutes for Vocational Training (EVBB) | European Vocational Training Association – EVTA | Maynooth University | ÖJAB – Österreichische JungArbeiterBewegung / Austrian Young Workers Movement | die Berater Unternehmensberatungs GmbH | IGLYO | School of Pedagogical and Technological Education | SerGED Association

𝘚𝘵𝘢𝘺 𝘵𝘶𝘯𝘦𝘥 𝘧𝘰𝘳 𝘮𝘰𝘳𝘦!
#iekAKMIedu #KA2 #erasmusplus #euprojects #erasmus #lifelonglearning
#EUVocationalSkills #EUVocationalExcellence
#EU_Social #EUEramusPlus #VET4EU2 #eacea #inclusion #teachers
#EuropeanEducationArea #TeacherAcademies #tutorproject